Request More Information
"*" indicates required fields
Partner
Camfil APC
Air Pollution Control
Gold Series X-Flo – The Ultimate Dust Collector
The Gold Series X-Flo cartridge dust and fume collector combines enhanced performance with ease of service. It may be used for a wide range of pollution control and product recovery applications.
Application
Mining
Blasting
Welding
Metalworking
Woodworking
Food Additives
Thermal/Plasma Spray
Paper/Fibrous Materials
Laser/Plasma Cutting
Hexavalent Chrome
…and much more
Application
Mining
Blasting
Welding
Metalworking
Woodworking
Food Additives
Thermal/Plasma Spray
Paper/Fibrous Materials
Laser/Plasma Cutting
Hexavalent Chrome
…and much more
Features
Modular design

for optimum flexibility – have it your way fast!

High Airflows

Each module accommodates airflows up to 6,000 CFM

Construction

Module constructed of 7 gauge carbon steel

Durable

Door, hopper, inlet and panels are all 10 gauge steel

Resists the Elements

Powder painted for unsurpassed corrosion resistance

Customizable

Component configurations are virtually unlimited

Efficient Pulsing

Vertical design of cartridges efficiently pulses dust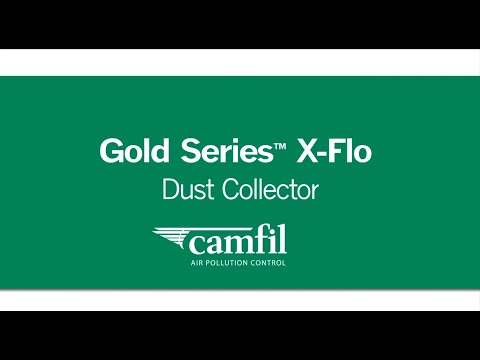 Overview
The Gold Series X-Flo (GSX) industrial dust collector is the industry's best-in-class industrial dust collection/fume collection system. It's built on 20 years of successful performance of our award-winning Gold Series system. It handles all kinds of toxic and combustible dusts, smoke and fumes, including fine, fibrous and heavy dust loads. Filter cartridges last longer and require fewer changeouts, reducing the total cost of ownership. They exceed OSHA mandates for factory air quality, and when equipped with a Camfil explosion vent, GSX dust collectors offer the highest combustible dust explosion protection in accordance with NFPA and ATEX standards.
Options
Explosion Venting
Rotary Airlock
Drum Cover Kit
Quick Open Access Panel in Clean Air Chamber
Custom Colors
NEMA 7/9 Solenoid Enclosure
Increase Leg Length
Hopper Access Door
Sprinkler Coupling
Dust Level Indicator
Dust Bin with Drawers
Common Trough Hopper
Large Pyramid Hopper
Stainless Steel Construction
Various Inlet Designs
Easy Maintenance
The service benefits are numerous. A heavy gauge access door uses an easy-to-use lift cambar in place of the usual threaded handle, facilitating entry into the collector. The door is fully reversible for access from either side and has an exclusive lock-out feature for worker safety. Cartridge service is further simplified through a cambar system that allows faster, trouble-free change-out.
HemiPleat® Technology
HemiPleat® is the unique, patented technology we use to create highly efficient pleated filter media that outlasts and outperforms standard pleated media. The HemiPleat design features synthetic beads that hold the pleats open. That means more media is exposed to the airstream so you get a longer-lasting, higher efficiency filter. HemiPleat filters deliver a lower pressure drop and facilitate a better release of dust during pulse cleaning. Using less compressed air and lowering the energy demand of the fan motor will save you money. You won't find comparable technology in competitive cartridges.
Gold Cone™ X-Flo Filter Cartridges
Gold Cone™ X-Flo (GCX) filter cartridges are the most advanced dust collector filters ever made. They feature proprietary HemiPleat® Gold Cone™ filters that stay cleaner and last longer than conventional pleated filters. Each GCX filter contains 375 square feet of media, offering the industry's highest air-to-cloth ratio. The innovative design provides a low pressure drop, which means fewer filters are required for a given application.
GCX filters were designed specifically for the Gold Series X-Flo dust collector. Used together, you get the most powerful and cost-efficient dust collection system on the market. The system maximizes airflow while minimizing filter change-outs, compressed air usage and energy costs.
About Camfil APC
Camfil APC offers the most technologically advanced dust and mist collectors available – backed by dependable service support and decades of proven experience. Our mission is to ship collectors fast while still giving the customer what they want; to be the most customer friendly company in the dust and mist collection business; and to make the best dust collector in the business from an end user and maintenance viewpoint. We are a subsidiary of Camfil, Inc., the largest air filter manufacturer in the world.
Get in touch with one of our experienced Team Members about Camfil APC Products and how they can solve your air pollution problems.